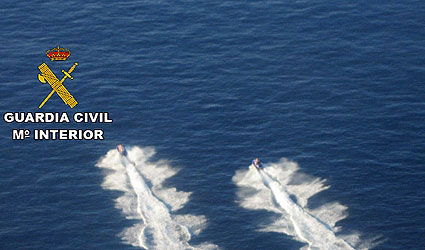 TWELVE members of a criminal organisation which smuggled hashish from Morocco into Spain on jet-skis have been arrested.
Guardia Civil carried out the arrests in several towns in Malaga province and in the Spanish enclave of Ceuta in North Africa. They seized 422 kilos of hashish and several jet-skis in an operation which began in August. 
The hashish buyers were based in Morocco and Ceuta, and they also found people to operate the jet-skis and bring the drugs to Malaga, where the middle-man between the network and the buyers was based. 
Two people were arrested in Mijas in August and 120 kilos of hashish were seized; later, in October, another three people were arrested in Mijas and 180 kilos of hashish were seized. Three arrests were also made in Estepona, where a further 120 kilos were seized. 
Following several house searches on the Costa del Sol, two people were arrested, two kilos of hashish, six kilos of marihuana, three vehicles and €20,000 were seized.
Nine of the detainees have been remanded in prison, and three released with charges. There are also arrest warrants against four other members. One of the detainees is a Briton, aged 29.