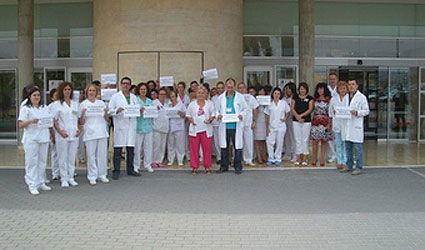 MEMBERS of the Medical Union of Almeria, Simeal, took part in a protest over work conditions along with other unions in the sector. The demonstration was  held at the Hospital La Inmaculada in Huercal Overa during a visit from health authority officials. The protesters rallied around a banner with the slogan 'cuts kill'.
Doctors and representatives of other groups of health workers took the opportunity to denounce the wage cuts of up to 10 per cent and an increase in the working week of two and a half hours as well as irregularities in the recruitment of prospective doctors who are working full time even though they should be working less hours.
Indeed, the health authorities had come to the hospital to award quality accreditation certificates while visiting other clinics in the North Almeria Health Care area.