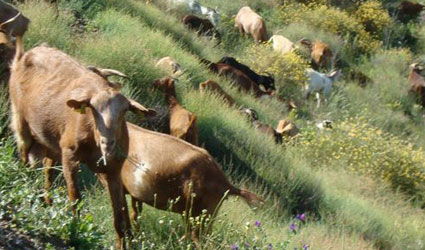 A LOCAL company wants to offer the world a tasty treat. Canillas del Aceituno-based Chivo de Canillas is in negotiations to export its flagship product – baby goat – outside Spain.
The company specialises in chivo, or baby goat from the Malaga breed cooked in a wood oven. The young company has already managed make a name for itself by selling its product in the Madrid, Barcelona and the Levante areas.
Now its objective is to conquer markets around the world. Specifically, the firm wants to export its product to Europe, Mexico, Saudi Arabia and Eastern countries.
Its ambition is high, but it recognises it is a difficult task. "It's been difficult to enter markets outside Malaga as our product is not really well-known," said CEO Carlos Manuel Aguilera.
The company makes around 350 units of their product per week. The baby goats are cooked using extra virgin olive oil, salt, pepper, garlic and parsley, and they're roasted for about three-and-a-half hours.
They're sold for €64.99 in 1.4-kilo packages, enough to feed up to four people according to the company. Chivo de Canillas expects to sell 3,500 chivos this Christmas.