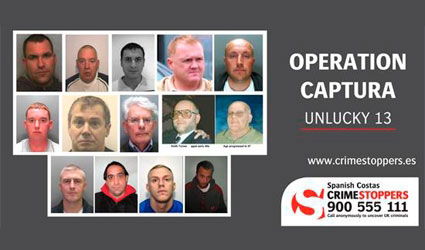 CRIME-FIGHTING charity Crimestoppers' latest campaign to locate 13 wanted fugitives, believed to be hiding in Spain, has been released this morning.
Crimestoppers and the National Crime Agency  have released information about accused and convicted criminals believed to be on the run in Spain in eight batches under Operation Captura since 2006. 
Fifty-three of the 63 people wanted under Operation Captura have now been arrested and brought to justice.
For years, Spain has been an appealing hideaway for British criminals evading capture. But this changed in 2004 with European Arrest Warrants, making it easier to bring British criminals back to face justice.
The 13 wanted men are:
Ian STANTON is a suspected ringleader of a cocaine smuggling ring which saw more than 400 kilos of drugs hidden in a shipment of frozen Argentinean beef.
Stephen BLUNDELL wanted for the conspiracy to supply Class A drugs, and was convicted for being principal organiser of his own heroin supply chain.
Daniel BOWES is wanted alongside Christopher MEALY for the suspected importation of cocaine from the Netherlands between March 2011 and January 2012.
Daniel DUGIC is wanted for his alleged involvement in a conspiracy to import 255 kilos of cocaine into the UK with an estimated street value of £53 million.
David HEWSON was sentenced to 11 years and one month in prison in December 2012 for his involvement in a number of drug offences in the Liverpool area. After pleading guilty to the charges, he absconded before he was sentenced in his absence.
Robert KNIGHT is believed to be part of a gang who attempted to import six kilos of cocaine through Heathrow Airport in a package originating from the Dominican Republic in 2008. Five other people involved were arrested and charged but Knight remains at large.
David MATHER is wanted for £500,000 worth of drug offences. He has been convicted in his absence to serve 18 years in prison after 32 wrapped packages of heroin were found within the bumper of a lorry stopped at the Humber sea terminal in May 2010.
Michael McCARTNEY is convicted of committing sexual offences against three young males under the age of 16 over a number of years. McCartney was found guilty in March 2013 but he failed to appear in court for sentencing and is believed to have fled to Spain.
Robert MORTBY is accused of being involved in the attempted murder of Richard Walsh in London in July 2012.
Brian THEXTON is accused of being involved in night-time robberies at isolated properties. He is also awaiting trial for conspiracy to supply drugs. Thexton has also pleaded guilty to conspiring to steal motor vehicles, plant and machinery on three occasions in 2010.
Keith TURNER is accused of obtaining property by deception. He is also unlawfully at large following the revocation of his life licence in October 2000. Turner was released on life license in 1993 following his sentencing in 1975 for the manslaughter of his mother and sister at their home in Northumbria.
Lee WILLIS was arrested following a raid on a property in Stalybridge whereby drugs worth £25,000 were seized along with mobile phones. He pleaded guilty to Possession of Class A and Class B drugs with intent to supply, however he failed to attend court for sentencing. In April 2013, Willis was also stopped in a vehicle on suspicion of further drugs supply. He failed to answer bail for this offence and remains at large.