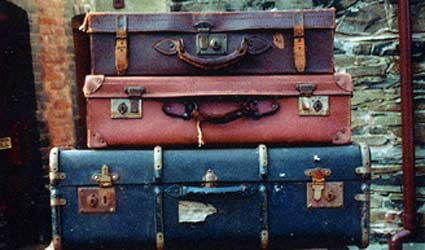 YOU can't open a UK red top newspaper now without three-inch headlines hectoring you that the next generation will probably be the first in history less well off than its parents.
And that everything's in decline – from living standards to those of health and education – except for one thing, that is. Immigration – and that's going up.
What's the reason? Mainly that we live in an age of entitlement – one that works at both ends of the economic spectrum. This mass sense of entitlement that came about post-World War II means everyone feels entitled to something: better education, better health care, free housing but with little thought of giving anything back. At the other end of the spectrum, MPs entitled to obscene expenses and CEOs to inflated salaries but not to be prosecuted or sacked because they botched up the banking system. And BBC executives likewise entitled to higher salaries than the Prime Minister's and NHS managers to 'revolving door' redundancies but not to be prosecuted or sacked in the wake of scandal after scandal.
The solution? Well, maybe if there was more honesty and less political correctness, executive salaries linked to genuine performance, an end to corporate tax avoidance schemes, zero benefits to fiddle and an education system fit for purpose with no dumbing down of exams or standards, then we might be in with a chance of reversing the decline.
But having all criticism silenced by accusations of racism, sexism or interfering whistleblowing, we certainly won't.
Meanwhile, back to the red tops which warn us we're importing immigrants like there's no tomorrow, putting ever more pressure on housing, welfare, health and public services and we're back to that sense of entitlement  again. With Romanians and Bulgarians entitled to certain UK benefits from this January and UK job agencies said to be bombarded with immigrants asking how to claim, British companies are even advertising on Romanian websites: "find out if you're entitled". Entitlement: you simply can't escape it!
Well, what about mass immigration? The jury's still out. Mass hysteria in the red tops? You bet! Believe them and there won't be a single unburgled house in Britain when all those Romanians arrive. And once Bulgarian crooks take hold of the country, they'll make the local lot look like Franciscan friars …
Nora Johnson's thrillers 'Retribution', 'Soul Stealer','The De Clerambault Code' (www.nora-johnson.com) available from Amazon in paperback/eBook (€0.89; £0.77) and iBookstore.Profits to Cudeca