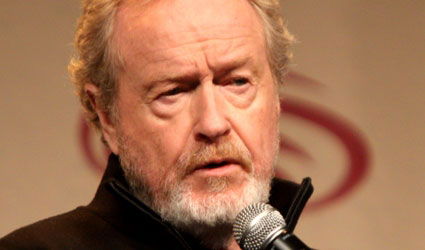 BATMAN actor Christian Bale has said 'thanks but no thanks' to Almeria's offer of a star on its walk of fame. He turned down the offer of a star – similar to the original stars along Hollywood Boulevard and Vine Street in Hollywood, USA –  saying he is too immersed in his character to make public appearances while he is filming.
But it is not all bad news for Almeria. Sir Ridley Scott is said to be 'delighted' at the offer of a star, and has accepted the invitation, with a massive 'si'!
He will be the first director to have a star on the walk of fame in the capital, after the actors Eduardo Fajardo and Omar Sharif.
A date is yet to be set for the ceremony with filming suffering a number of setbacks due to the weather.The star dedicated to Ridley Scott has been made and will be installed in the near future on the Boulevard of the Stars, opposite the  Cervantes Theatre in the capital.
During the next edition of the festival 'Almeria en Corto', the Boulevard will increase by two new stars, one for Denis O'Dell and another for Max von Sydow, the two 'Almeria, tierra de cine' honorary award winners this year.