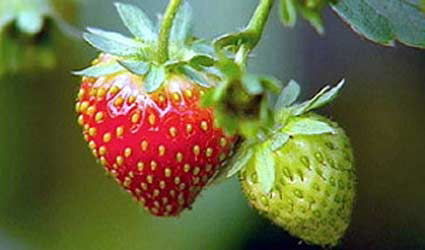 WITH the widely promoted message 'Eat five or more portions of fresh fruit and vegetables a day for a healthier diet' no Spanish garden or apartment terrace should be without fruit trees or plants.
Even in less than a square metre it is possible to grow alpine or ordinary strawberries in a strawberry barrel or window box, and citrus, peach, apple, pear, pomegranate, avocado and fig trees on dwarf root stocks grow perfectly well in containers. Just make sure to fill the containers with a rich in nutrient and water retaining/ well draining soil mix.
In a larger garden it is not difficult to fit in 10 types of fruit that mature in different months of the year and be able to harvest one fruit crop or another on every day of the year.
The thing is to select varieties of fruit that you like to eat raw or cooked and which are appropriate for the microclimate of your garden. Over 70 types of fruit are described in 'Growing healthy fruit in Spain' with indications of their frost and drought hardiness to help people make a wise choice.
There are plenty of possibilities for all regions and locations.
Favourites from our garden are the winter tangerines and mandarins, spring to winter raspberries (yes for eight months of the year), early summer wild strawberries, peaches and apricots, late summer figs almonds and grapes (plus mangoes until the heavy frost of 2005), autumn cacti fruit quince and persimmons, and lemons on almost every day of the year from a perpetual flowering and fruiting Lunar lemon tree
Most families do not require a large orchard. Indeed, many inland expatriates with 10,000 square metre plots have discovered that it impossible to cope with the ripening fruit of several hundred trees and vines when Spaniards are feeding surplus oranges to their sheep and goats as it is less expensive to do so than pay to harvest fruit that can be only sold for very low prices.
Luckily many fruit trees have multiple benefits so they easily fit into mixed gardens for they are among the best trees for spring blossom, then the colouring fruit add interest followed by the vivid autumn leaf colours of the deciduous trees and early winter colours of persimmons and pomegranates well after the leaves have fallen.
Combine the above with growing your own vegetables and you can become largely self sufficient in fruit and vegetables, even in a moderate sized garden here in Spain where it's much easier to do so than in rain ravished Britain.
It's not difficult to process many excess fruit  crops for later use by freezing, bottling, making jams and chutneys, and drying them in the sun or, rather easier, in a heated air tray dryer.
Also recognise that nuts are a form of fruit, so consider growing macadamia, walnuts, pecan, pistachio, hazel, and chestnuts as well as the almonds and carobs that were inherited in many gardens.
© Dick Handscombe www.gardeninginspain.com November 2013