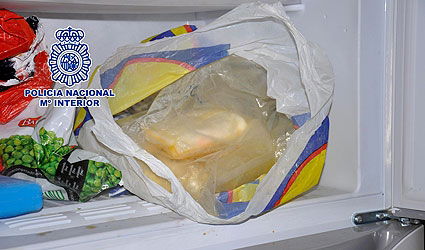 A BRITISH couple has been remanded in custody accused of drug trafficking in Frigiliana. The man, aged 34, was wanted under an arrest warrant for breaching his parole conditions after being arrested in Britain.
The woman, aged 31, was also wanted in Britain for drug trafficking. National Police started an investigation after suspecting the couple could be selling drugs from their house on the outskirts of Frigiliana.
The accused had installed surveillance cameras to watch both the interior and exterior perimeters of their house 24 hours a day. An Air Unit from the Provincial Police Station in Malaga helped to take pictures of the interior of the house.
These showed how the couple had installed a greenhouse on their terrace, where they allegedly grew marihuana for profit.
Police also found two vehicles registered under the name of two British residents. They later confirmed with the help of the British authorities that the identities the cars were registered under were false.
The vehicles, together with 775 grammes of amphetamine hidden in a plastic bag in a freezer, 152 marihuana plants, a mobile phone and a laptop, were seized by National Police.