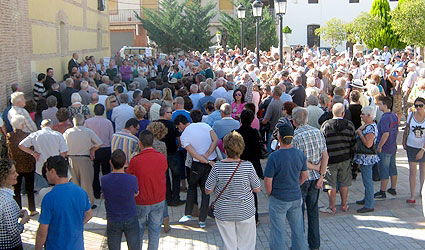 FOUR HUNDRED people, including several mayors gathered for a demonstration calling for a solution to the illegal houses of the Almanzora Valley.
They gathered outside the palace in Almanzora on Saturday as a response to the recent demolition of two British owned properties in the nearby hamlet of Las Terrera.
The crowd was addressed by Gerardo Vazquez, lawyer for the home owner's pressure group, AUAN. Mr Vazquez highlighted the plight of Len and Helen Prior whose home was demolished five years ago even though they had planning permission and had acted in good faith.
Mr Vazquez pointed out that in order to promote wealth, employment, social and economic welfare in the area, and reactivate the Spanish property market, demolitions must stop. 
Helen Prior whose home in Vera was demolished in 2008, also addressed the crowd. In an emotional speech Mrs Prior questioned: "What good did our demolition do for Andalucia or the Spanish economy?" Mr and Mrs Prior continue to live in what was formerly their garage and still have yet to be compensated for the loss of their home.
Antonio Salas, President of the Mancomunidad then took the microphone to apologise personally to Mr and Mrs Prior for their experience in Spain. He went on to say that he was ashamed the demonstration needed to take place at all as this problem should have been resolved long ago.
Martin Martos Cerdan, the President of the business association AEPA, also spoke out. He said he had attended a meeting yesterday with the Junta de Andalucia, who assured him they had been working for some time on resolving the problem. He told the demonstrators that there was another meeting planned next week and was encouraged by efforts being made by the Junta.  "I am against demolitions," he said. "We must all stand together."