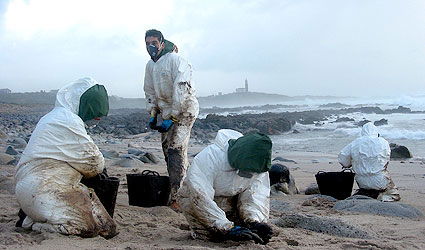 ELEVEN years after Spains worst ever oil spill, sentence has finally been passed. The captain of the Prestige tanker has been jailed for nine months for delaying the towing of the tanker.
But environmental groups are disappointed that all three accused were acquitted by the Galicia High Court of environmental crimes.
They included the former general manager of the Merchant Marine, Jose Luis Lopez Sors. Only the captain of the tanker, Apostolos Mangouras, has been sentenced to prison.
Mangouras will serve a nine-month sentence for delaying the towing of the tanker contravening his superior orders.
The Spanish Government has been exempted from paying damages of the disaster as the court understands it tried to solve the situation and avoid material and personal damage.
The ruling determines that the decision from the government to distance the tanker from the coast was correct, as opposed to what environmental groups claimed.
Citizen movement Nunca Mais, formed in 2002 following the disaster, has described the court's decision as "unfair" and "unfortunate."
Nunca Mais' lawyer, Pedro Trepat, announced the movement is considering appealing against the sentence.
The delivery of the decision comes 11 years after the oil spill took place, on November 19 2002.
That day, and after six days adrift off the coast of Fisterra (La Coruña), the Prestige split into two as a consequence of a 15-metre crack in its hull.
1,137 beaches of north-western Spain, Portugal and south-west France were covered in a thick layer of heavy fuel oil known as 'chapapote.'