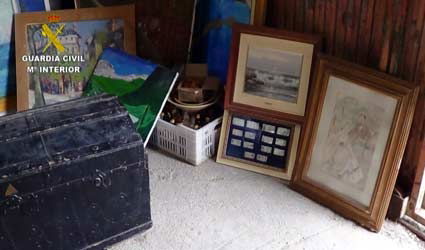 FOUR partner have been arrested for allegedly stealing artistic and historical objects from their own company.
Part of the loot was being sold in a street market, while the rest was being kept in a storage room rented for that purpose, said police
Guardia Civil also found objects in an industrial unit owned by one of the accused in the Monzalbarba area of Zaragoza.
The articles, including paintings by Jerez artist Vicente Barneto y Vazquez, were stolen from a villa owned by the company the partners were members of.
Others were taken from the company's head office in Zaragoza.
Guardia Civil recovered 98 paintings, 14 prints, 13 radios from the 1940s to the 1960s, three pieces of religious furniture and 12 religious carvings among other objects.
These are currently being studied to determine their value and classify them.