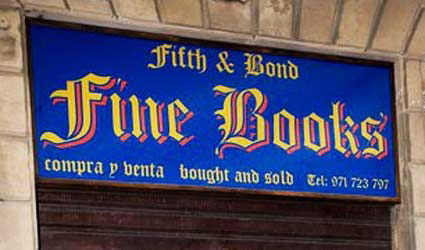 IN THE center of Palma, in Calle Morey you will find The Fine Bookshop, owned by Rodney Browne who has known Mallorca for 45 years.
"Just over six years ago, I was at an auction in the UK, bought some books, came to Palma and opened a book shop" said Rodney.
The shop is a book worm's dream, when you walk through the front entrance, the walls are full of books as you would expect, but that's not all. What looks like a small shop when you walk in, quickly becomes a maze of literature spread out over four floors. It's like walking into a tunnel of books and for anybody with a passion for books it's a wondrous place.
In the six years from the first books that Rodney used to stock his shelves, his collection has grown and grown to more than 60,000 books. The variation of books is as massive as the inside of the shop and all of the books are second hand. But not just any second hand, there is one book over 400 years old, and a rare first edition of Jame Joyce's 'Ulysses'. There are maps, old bibles and whole collections all pristine and in the box. And apart from a very small percentage, all the books are in English.
Anyone is welcome to visit the shop if you have any books to sell that are rare, and of course if anybody is looking for a particular book chances are this is where to find it. The Fine Bookshop does not stop at books, there are all other types of memorabilia. Old photos, post cards, signed mirrors and signed books among other trinkets.
And now you can also choose from the fabulous selection of Christmas presents The Fine Bookshop has to offer too!
The magic of The Fine Bookshop is often not only what you might find in the shop, but who; in the past the shop has had celebrity visits Ronnie Wood, Tim Rice and Geoffrey Archer to name a few.
The Fine Bookshop is situated at 7 Calle Morey just off the Plaza Santa Eulalia in Palma. If you wish to inquire about a book or wish to sell a book, call 971 723 797 or better still pop in, Rodney is always there and is very welcoming.
The Fine Bookshop opens Monday to Saturday from 9.30am to 8pm and on Sunday mornings from 10am to 1pm.