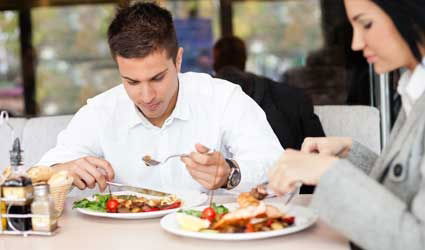 "THERE'S no such thing as a free lunch," my father says, and boy is he right.
In fact this simple little midday meal can cut a hefty chunk out of a person's income. What may seem like a harmless, but necessary, midday munch can be responsible for big annual loses. So what can we do to still fill our bellies but reduce our spending?
Well, drawing up and sticking to a budget is an essential way to see where your money goes and to save for the things you want to do and buy, but tracking every little thing can be daunting.
And that's one of the main reasons why many people give up on their budgets. So a good idea is to start small, and looking at saving at lunch is a good place to begin, because it's surprising just how much money people fork out for this meal.
In the US the average American spends €8 a day on lunch, which adds up to almost €2,000 a year. A typical Spanish lunch, along with the all-important afternoon coffee, is probably close to €8 a day too. In Rio de Janeiro the annual cost of lunch is close to €1,500, while splashing out for a steak and chips a couple of time a week in the UK will set diners back about €3,500 a year.
By making your own lunch every day it's possible to save about €5 a day, which is about €1,500 a year of extra cash. And it doesn't have to be a massive chore either preparing a to-go lunch.
When you're making dinner make extra portions that can be put in the fridge in  Tupperware boxes  which are easy to just grab before leaving for work the next morning.
A tasty sandwich takes no time to prepare in the morning, while a few nuts, bananas or fried fruits on your desk are good snacks to help keep hunger at bay, and more importantly keep you away from splashing out  €8 on a menu del dia.
Making a few key changes can save you big money and you won't go hungry, either.