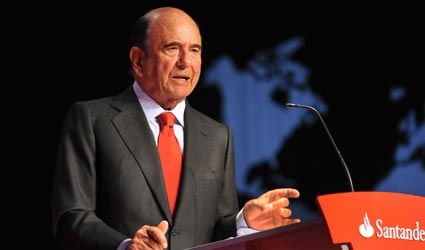 TAXPAYERS and well-managed financial institutions should never again be burdened with the cost of the financial crisis.
Instead, the EU authorities should be able to allow some banks to fail when necessary, minimising the cost to "everybody in the system and society in general."
So claimed Emilio Botin, president of Santander Bank during his inaugural speech at the Sixth Santander International Banking Conference.
Transmission of monetary policy through financial institutions "is not working properly," he also maintained.
"This is because banks – and this is very important – depending on the specific country where they are headquartered, are penalised by sovereign risk," Botin added.
He cited Santander's 'A' stand-alone rating from Standard and Poor's, which is higher than any other major European or US bank.  "After including sovereign risk, our rating falls to "BBB," whilst that of other banks rises to "A," he complained.
"2014 has to be the year when the vicious circle between sovereign and banking debt is finally broken, not just for the good of the banks, but also for the sake of the individual customers and companies we serve."