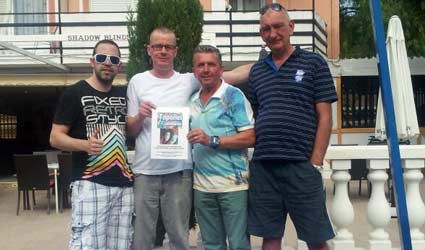 SOME weeks back The EuroWeekly News ran a short item about Teulada taxi-driver, Kiko Garcia.
Kiko collects bottle tops and plastic for recycling to raise money Noa Alvarez, an eight-year-old from Calpe. He also made a personal contribution of €500 to Noa's fund.
Noa suffered brain damage after contracting meningitis and her family struggle to cover heavy outgoings that include a €4,000 wheelchair.
Then reader Stan Turner who lives in La Cala de Finestrat rang the EWN offices.  He already had a huge collection of plastic and would like to contact Kiko, he told us.
We might not have a magic wand – but we could trace Kiko and he readily offered to meet Stan in La Cala de Finestrat . 
Kiko has now picked up two carloads of bottle tops for Noa.  And he will be returning, Stan told us, as he and his friends are still collecting.