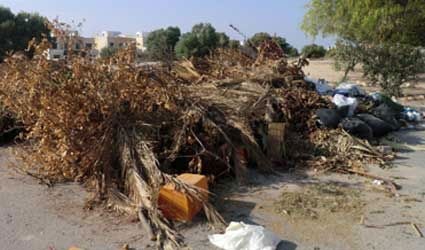 PROTESTORS piled heaps of garden waste in front of Orihuela Town Hall in protest at the council's failure to clear the streets of the Costa.
CLARO Councillor Bob Houliston placed a symbolic bag of green waste in front of Orihuela Town Hall during the latest protest against the breakdown in the collection and disposal of green garden waste. Orihuela Costa has been left with garden waste rotting in the streets rather vthan being cleared away.
The protest took place during the full monthly council meeting with branches of palm trees and sacks of green waste piled in front of the Town Hall. Cllr Houliston said: "The sight of dirty streets was witnessed by the thousands of tourists who spend their holidays in Orihuela Costa and who are so important for the local economy. Instead of responding to these complaints and protests, the governing team has allowed the situation to worsen." 
A motion was presented jointly by the Popular Party and CLARO calling for a crash programme to clean up the coast, the putting in place immediately of an adequate and efficient collection and disposal service for all kinds of rubbish and waste and an ecological solution for the garden waste and seaweed generated in Orihuela Costa and on the beaches.  
The motion was carried by a majority vote but the governing team voted against. It claimed that the service was better than before and that residents were to blame for not putting out their green waste in the right places on the right days.