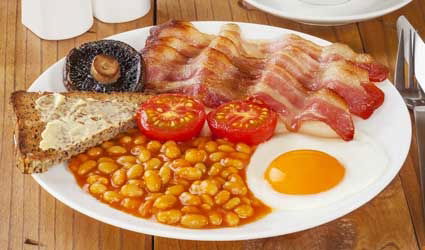 Forgetting to take your vitamins: Taking a multi-vitamin tablet every morning might seem like a good start to the day, but it can lull you into a false sense of security as people are then more likely to choose a high calorie meal over a healthier option, according to a study in the Psychological Science journal.
Abandoning your morning workout: Putting off your morning workout could actually be beneficial as scientists at Brunel University (USA) say that early morning heavy training sessions can compromise your immune system and make you more prone to colds and flu.
Enjoying a full English breakfast: A big breakfast could actually reduce your risk of heart disease. A report in the journal Obesity compared women consuming the same amount of calories a day and found the women who ate a big breakfast and a lighter supper lost more than twice the weight of those who had a light breakfast in favour of a big dinner.
Drinking too much coffee: Women who drink four or more cups of coffee daily have a 20 per cent lower risk of depression, according to Harvard School of Public Health (USA). As well as being rich in healthy antioxidants, the caffeine in coffee is thought to help raise levels of chemicals in the brain which are responsible for making us feel good.