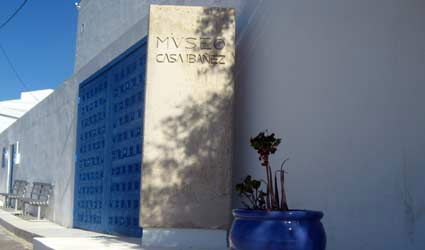 THE acclaimed dancer and choreographer Victor Ullate visited the Almanzora area.
The visit was part of the celebrations for the 25th anniversary of the dance company Victor Ullate – Community of Madrid.
The Olula del rio Museum Casa Ibañez was the place chosen to conduct a small talk and projection of an extract of the shows for which Ullate has been nominated for the Prince of Asturias Arts Award 2014.
He began the day in the town of Purchena, where he was received by the local mayor Juan Miguel Tortosa, and later visited a children's centre where he shared his experiences with the youngsters.
The Museum was the second stop for the dancer, where he was met by museum board members and local officials.
"I'm amazed, I did not think that in this town there is a museum like this. Today is a happy day for me, you made me very happy," said Ullate in a friendly tone that dazzled the audience , while receiving a marble sculpture presented by the local mayor Antonio Martinez.
After touring the museum , the head of the dance company of the community of Madrid, went to the restaurant Purchena Station , which held a tribute dinner under the name  'Awaken your senses'  hosted by the chef and manager Ramon Saez .