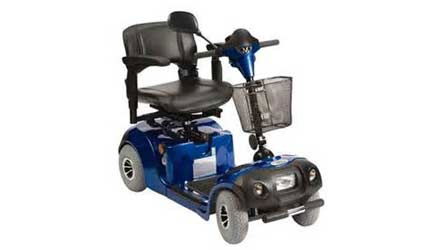 PROBLEMS with your mobility scooter, power chair or any other mobility products?
Then you need The Mobility Wizard, the only specialist mobility repair company in southern Spain,
Being the longest established company on the Costa Del Sol The Mobility Wizard not only has an enviable reputation for fast efficient service, but is also the only authorised repair agent for most of the larger manufacturers.
Whether it's a flat tyre, battery replacement, full rebuild, or just a service, they can help keep their customers mobile whatever the problem.
Just as importantly The Mobility Wizard can supply and deliver any mobility product needed to make life easier, from a bed pan, bath lifts and hoists to daily living aids and mobility scooters. In fact whatever you require they can supply, either for hire or purchase.
The Mobility Wizard is also the only English owned company in Europe (except the UK) to be a fully approved installation and repair agent for Stannah Stair Lifts EU. So if you are having problems with life's ups and downs call The Mobility Wizard.
Do you have mobility scooter insurance? Perhaps not,but although not obligatory it is worth having. For just €105 per year customers can get fully comprehensive cover including €1,000,000 public liability. Mishaps like scraping a car or hitting a pedestrian can be an expensive business! Take the worry out of that by taking out insurance. The Mobility Wizard is the main agent in Spain for Premiercare which is underwritten by Lloyds of London. It is the only policy you can get in Spain specifically written for mobility scooter users. Remember the saying – 'where there's blame there's a claim'!
Whatever your needs the Mobility Wizard can help,
Visit the showroom in Los Boliches (Senior World) or the repair centre in Fuengirola (The Wizard's Workshop)
Or if you prefer a home visit to asses your needs, that is no problem.
Just call 952663131 633127901 or email [email protected]
Visit the website www.mobility-spain.com