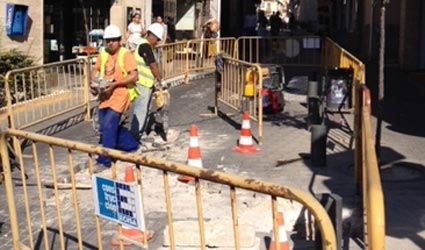 VILLAJOYOSA streets will soon be flood-free.
Work began in May 2011 on a joint town hall-Aquagest project to connect the town centre's network of storm drains to a central sewer.
This will put an end to the flooding that has always occurred in some streets during heavy rain, said councillor Jeronimo Lloret who heads the town hall's department of Economic and Sustainable Development. 
The project's success was evident when Calle Barranquet was not flooded during heavy rain at the end of August, Lloret pointed out.
"In future, all the streets linked to the central drain will be free of flooding," he predicted.
It is now the turn of one of La Vila's principal streets, Calle Canalejas, to be linked to the central system which is in the area adjoining Plaza de la Generalitat. As this is approximately 14 metres below ground, archaeological soundings will be carried out first.