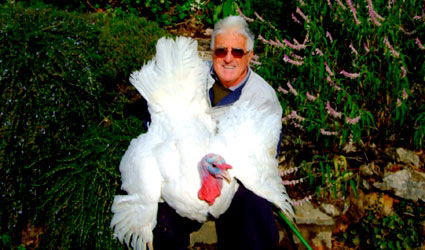 JUST had a week off from gardening and writing so now have to catch up. I was in the snowy Gredos Mountains west of Avila working as one of 25 English speaking volunteers helping 25 Spaniards improve their spoken English on a Vaughan House intensive week immersion programme.
Volunteers and course attendees had to speak English to each other for 84 hours – Spanish speaking being totally banned by Spanish and English alike. We all had to pick different topics of conversation so often I was comparing attitudes to gardening In the North with those on the Costas and what was eaten for Christmas and the New Year.
As my Christmas lunch had started to sing loudly it was prepared for the oven early to prevent it being high jacked. 
At 18 kilos it would not fit into the oven so it's in the deepfreeze cut in two for two festive dinners. 
While making bread this evening I coated it with chopped rosemary from the garden. It's now frozen ready to thaw out and warm up over Christmas. While the bread was cooking I checked out the home made liquers prepared a few months ago with herbs, blackberries, sloes, Pacharan, cacti fruit and ground carobs.
I did a final weeding of the vegetable terraces and containers this afternoon and there will plenty to harvest for salads and cooked vegetables. I also tried out a new idea. Although the fruits are smaller than normal the tangerine tree is well laden. I therefore harvested a kilo and then chopped them for 10 minutes, skin and all, and then added a large packet of a lemon flavoured jelly powder dissolved in half a mug of hot water. Three hours later a very refreshing full fruit jelly was ready to test. It tasted good and I intend to test it again once this column is finished.
As many readers know we are almost fully self-sufficient from the garden as were many Spaniards before agriculture was abandoned to become construction workers during the boom period. Our own drive towards self-sufficiency started as a result of three things.
The decline of agriculture in our valley.
A realisation of how much Spanish agriculture depended on chemicals and how difficult it was in most areas to purchase ecologically grown fruit vegetables and poultry.
The wonderful vegetable gardens we saw in the semi abandoned villages we passed through during our 52 day 950 kilometre walk across Spain along the Pyrenees that separate Spain from France. By chance my book 'Adventure along the Spanish Pyrenees' describing  the walk was published yesterday in print and Kindle formats by Amazon Books. It would make a good Christmas fireside read or present .
Well the next edition of EWN will be published on Boxing Day so at this stage do have a great Christmas Day.
© Dick Handscombe www.gardeninginspain.com December 2013.