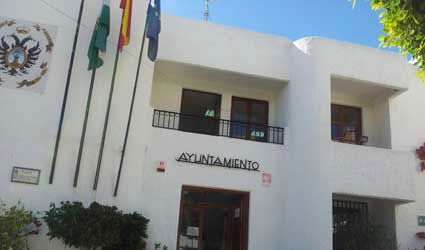 CRITICS have hit out at plans for a new blue zone pay parking plan for some streets in Mojacar.
 The council has approved an ordinance for the regulation and control of parking on several streets.
This new regulations, which were passed with the votes of the PP, the abstention of Mojacar Positiva se Mueve and voted against by the other parties, has the objective to support the even distribution of parking among all users with the aim of improving traffic flow, claims the mayor.
The mayor, Rosa Maria Cano, said during the meeting, the intention of the governing team is to apply the ordinance during high season between June and September, mainly affecting the Marina de la Torre area.
Residents will have to pay €30 to get a card that allows them to park in their street without having to buy a ticket and without  time limit.
 The opposition parties, who consider the measure is essentially a fund raiser, have criticised the fact that tourists will be most affected.  Diego Garcia, of Union Mojaquera, highlighted that someone who is playing golf, would "have to stop mid-game to go get a ticket."
In the same vein, Manuel Zamora, of the PSOE, commented if a person has to pay to go shopping at the Commercial Centre they will probably go to Garrucha.