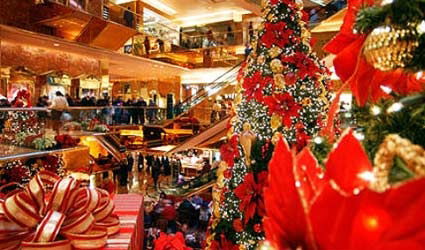 SPANIARDS will spend more this Christmas, a study carried out by professional services company Deloitte has revealed.
The average Spanish family is to spend €671 in Christmas shopping this year, as opposed to the €659 spent in 2012.
Spanish people have become practical consumers who look for good value products at competitive prices.
Half the people surveyed claimed they will buy presents taking into account the price, being clothes, books and perfumes what most people wish for.
They are followed by technology, which is especially popular amongst young people.
Most of the people, six out of ten, will buy their presents before December 15, whereas only 7 per cent claimed they would wait until the sales in January.
Of those who say they will spend more this Christmas, 40 per cent will do so to "take the financial crisis out of their heads."
Meanwhile, 59 per cent of the people who will spend less this Christmas claim it's because their income has dropped.
Department stores and specialised groups are the favourite options for Spaniards to buy their Christmas presents, with 61 per cent of people choosing them.
As for food, supermarkets remain the favourite places to buy food for Christmas, being the choice of 67 per cent of Spanish consumers.
They study stands out a rise in the use of the Internet to search and compare prices.
However, most of the people will buy in actual shops in order to "feel" the product and receive professional advice.
In addition, the study claims Spanish consumers will use social networking websites not only to get information, but also to share their own experiences.