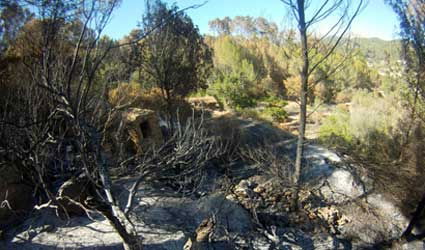 PALMA Provincial Court has confirmed the release of the man, 44, accused of causing the worst fire in the history of the Balearic Islands.
The man is a resident of Andratx who, on July 26 this year, threw the embers of a barbecue onto an area of land with dry grasses in front of his home, causing the fire which destroyed 2,335 hectares of the Serra de Tramuntana.
The Balearic Environmental Prosecutor wanted the man remanded in prison, due to the gravity of what he had done and the fact that he could be sentenced to 15 years in jail, which they believed could mean he would try to escape.
However, he has been released with charges but his passport has been seized.
He confessed what he had done to the Guardia Civil and a judge after being arrested this summer.