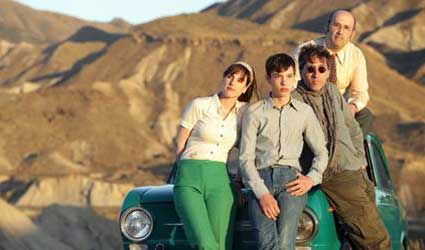 IN 1966, John Lennon wrote 'Strawberry Fields Forever' in Almeria, where he had arrived to shoot the film 'How I Won the War'.
A few hours drive away, a teacher who taught English in Cartagena decided to visit the film set to try to fulfill his dream of meeting the man who wrote the songs that served as teaching material.
David Trueba relives this story in the movie 'Living is easy with eyes closed', a road movie shot in Almeria that already has received numerous accolades from critics and opened this week in Spanish cinemas.
The real life experience of Javier Carrion, a teacher who is now over 90 years old, is told through Javier Camara, an actor who was desribed as 'perfect' to play this character.
The teacher, accompanied by a young pregnant woman who escapes from a shelter, and a boy who runs away from home after refusing to cut his hair, are the three characters of the story, whose destiny is to meet John Lennon.
Trueba emphasises the heroism of the three with conventional lives, claiming that everyday stories are those that appeal and that, in his opinion, make a story into something interesting.
"We need to vindicate ordinary people, because one day they will think that taking their children to school is not important," he added. Javier Camara said this is the best character of his acting life, despite starting shooting just three days after arriving from New York, leaving him very little time to rehearse the film .
"We made a brave film. Outside Spain they envy the freedom we have to make these films. Now that's 'Brand Spain', stated the actor during the presentation of the film.