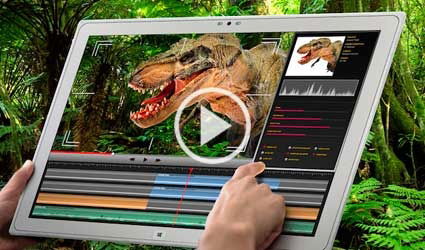 Panasonic Corporation has development of a new tablet computer that features a 20-inch IPS Alpha LCD panel with more than four times the resolution of Full High Definition, as well as a high precision digital pen.  With the target to commercialize the new tablet early next year, Panasonic is gearing itself up to propose new business value this feature-rich device will offer to its customers in a wide range of industries.
Employing Panasonic's cutting-edge digital technology, the new tablet is designed to create new value for users with a more realistic and intuitive operating environment than paper or a display.  This tablet embodies the characteristics of printed media that existing personal or tablet computers cannot provide, such as texture rich rendering, natural hand-writing and a light weight and thinness for easy mobility. 
The 20-inch LCD panel delivers "4k" resolution (3840 x 2560, 9.83 million pixels), more than twice the horizontal and vertical resolutions of Full HD (1920 x 1080) and has a density of 230 pixels per inch.  With a unique aspect ratio of 15:10, it can display an A3-size paper in almost full size, making it ideal to show content such as newspapers and magazines, as well as pictures with the same aspect ratio.  Moreover, the pen input, with a resolution as high as the panel itself, enables natural handwriting on the tablet.  Weighing 2.4 kg (5.3 lbs) and 10.8 mm (0.4 inch) thick, the tablet is easy to carry.