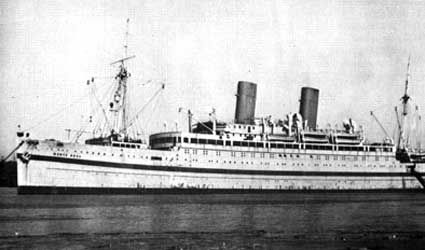 NOT far from Costa shorelines lies the wreck of a once proud ocean liner.
Was the MV Monte Rosa cursed by fate? The ship's damnation was to dog the graceful liner's every nautical league on its last voyage.
Setting out from Japan in February 1954, its 1,276 passengers and crew had every reason to look forward to a pleasant voyage. Their ocean odyssey would be crowned by a homecoming to an England many had not seen for years. 
Passengers included military families of servicemen based in the Far East. Various were survivors of the Korean War.  Among the wounded were veterans of the Battle of the Hook.  Many were stretcher carried up the gangways, The 'Dukes' from the Duke of Wellington's Regiment, outnumbered in battle by five to one, had taken honours but casualties too.
Sailing from Yokohama and Kure the Monte Rosa's passengers and crew were to endure the voyage from hell.
Seemingly reluctant to return to Europe, defects in the super liner's propulsion system needed constant running repairs. 
The luckless liner spent more time wallowing helplessly in the Indian Ocean than sailing. The three weeks anticipated passage to Port Said in Egypt took an excruciating eight weeks to accomplish. 
It must have brought great relief to all on board when Monte Rosa finally limped into Port Said. Now, only the Mediterranean lay between them and England.
The liner had known far happier days. It had once cruised the sun-drenched Aegean, Ionian, Adriatic and other seas that make up the Mediterranean. However, that was before the 1939 – 1945 World War.
From 1930 to 1945, the 13,882 tonne twin funnelled liner had been one of Germany's fleet of super liners. Built by Hamburg shipbuilders Bohm and Voss the Monte Rosa was one of five sister-ships.
Under the Kraft Durche Freude (Strength through Joy) leisure scheme Monte Rosa was to later provide German workers and their families' opportunity to take cruises that were previously the preserve of the elite. During the war the liner was used as a troopship.
Departing the Egyptian port, the ill-fated liner embarked on the last leg of its voyage.  But, sailing off Algiers an engine room fire resulted in a cataclysmic explosion.  Four crew members were killed. The rescue of the remaining 1,276 passengers and crew was successful, but the hulk, whilst being towed to Gibraltar, sank beneath the waves.
The Monte Rosa, seized as a war prize in 1945 and renamed MV Empire Windrush, pioneered West Indian immigration to Britain. Other liners such as Reina del Mar and the Georgic soon joined in the massive Caribbean exodus. However, the MV Monte Rosa aka MV Empire Windrush is best known and will forever be known for its part in changing the face of Britain forever.