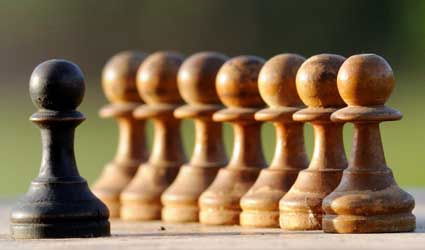 NO child is born a racist. It is the world of adults and their habits that instill the idea that some of us may be different, or in some way unacceptable to others.
To a child born in this 21st century, particularly in the West, it is perfectly normal for them to be surrounded by children of all creeds, customs and appearance. Watch any group of young children in creches or playgrounds and you will observe them all playing happily together, with no hint of favouritism or antagonism toward each other.
So when does the ugly face of racial intolerance actually begin to manifest? Of course a great deal of it is passed directly from the parents. Racist parents, constantly demonstrating racial intolerance of others, will of course sooner or later instill it into their own offspring – but I think in many cases it starts earlier than that and once again, in my opinion, it is the media that must accept a large portion of the blame.
I think many of the children's charities should sit down and have a complete rethink as to how they use the media to circulate their often extensive appeal campaigns. Day after day we are inundated with tragic, emaciated children, covered in flies with bulging eyes and inflated bellies. There are no watersheds to these appeals, so from extremely tender ages our mites are constantly exposed to sights of the appalling squalled living conditions and deprived suffering of young children and babies.
And 99 times out of 100 they are all black! Is it therefore no wonder that youngsters begin to observe each other differently? What makes it even worse is that these children are, by the very state of their circumstances, also observed by these young minds to be inferior to those with full bellies, white parents and taps full of water.
And how do the black tots react to this situation? Well to me it's perfectly obvious. Firstly they must, after observing these appalling images of deprived children, most of whom are the same colour as themselves, begin to themselves feel in some way inferior. This must soon be taken over by any number of emotions. Jealousy, confusion, mistrust, anger and above all, among both black and white, the previously unrealised fact that they are indeed not all the same. And there you have it. All the ingredients of future unrest and possible conflict.
The birth of racism. What these well-meaning and highly commendable charity groups can do about the situation I simply have no idea. Perhaps the best plan of action would be a watershed in the showing of these often extremely distressing images. At least this would prevent tiny impressionable minds from becoming racists before they can hardly speak.
Keep the faith.
Love Leapy.  [email protected]