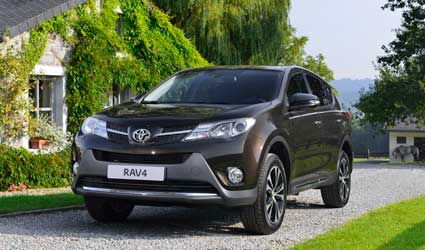 JAPANESE manufacturer Toyota has introduced a series of improvements to its RAV4 model for next year.
The fourth generation of Toyota's compact sports utility vehicle has seen more features added with an all-wheel drive engine line up, new equipment and new technology.
The all-wheel drive version of the 2014 RAV4 combines the Euro 5 compliant 2.0 litre D-4D turbodiesel with the Integrated Dynamic Drive System, Toyota's all-wheel drive technology.
The Integrated Dynamic Drive System enhances performance, handling and safety under all driving conditions, the manufacturer claims.
Using information from various sensors (speed, steering angle, and yaw rate), the system continuously controls the torque transfer between the front and rear wheels via an electromagnetically controlled coupling positioned in front of the rear differential.
 Front to rear torque distribution can vary from 100:0 to 50:50, with front-wheel drive (100:0) automatically engaged under normal driving conditions to improve petrol consumption.
For off-road driving, the system allows drivers to lock torque distribution in a fixed, 50:50 ratio to speeds up to 40 km/h.
Mated to a six-speed manual transmission, the 1,998 cc engine develops 124 hp / 91 kW at 6,000 rpm, and 310 Nm of torque between 1,600 and 2,400 rpm.
The 2014 RAV4 will be available in a new Dark Brown Metallic body colour with a new, angular, 10-spoke 18" alloy wheel design.
The interior may now be finished in a choice of four colour schemes: Black, Grey, Terracotta and new Beige, which features two-tone seats and a leather finish to the main dashboard panel and central door panels.
Equipment upgrades will also define the 2014 RAV, which will be available from €26,000.
The vehicle now incorporates Toyota Touch 2, a system featuring a 6" full colour WVGA touch screen in high resolution.
Both safety and driver convenience are further enhanced by the availability of a new Rear Cross Traffic Alert (RCTA) system.
The RCTA system employs the Blind Spot Monitor (BSM) radar to alert the driver backing out of a parking space to approaching vehicles which may not be visible in either the rear view monitor or door mirrors.
When approaching vehicles are detected, the system flashes the indicator lights on the door mirrors and also sounds a warning buzzer.