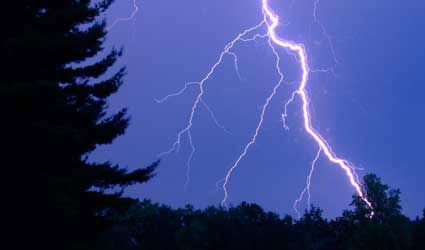 THE recent discovery of gold particles in the leaves of eucalyptus trees in western Australia has completely overturned the old saying "Money doesn't grow on trees." Which made me wonder which other sayings simply don't stand up to closer examination …
Murphy's Law ("if anything can go wrong, it will go wrong and at the worst possible moment") is also way off the mark. For instance, ripping off a shirt button or breaking a shoelace when in a rush is probably down to the extra stress you're under when you know you're late and need to get somewhere fast. Likewise: "Healthy as a horse". Any horse owner will tell you that a horse is like an Italian sports car. If it can break down, it will.
"Ne'er cast a clout till May be out." In other words, don't break out the barbie until May's safely behind you. Really? This year in the UK, it was more like July before it was anywhere near warm enough to mothball those winter woollies.
"Lightning never strikes in the same place twice." Rubbish! Lightning strikes repeatedly wherever the surface offers points of conductivity – usually in those places where the conditions produce lots of thunderstorms. After all, that's the sole purpose of lightning conductors: to make the inevitable strikes harmless by offering them a seductive sitting duck that'll deal with the discharge safely.
"Cracking your knuckles gives you arthritis." Most medical studies have found no link whatsoever between this annoying habit and arthritis. The cracking sound isn't bones being mangled out of shape but the release of pockets of gas from between joints. That said, long periods of knuckle-cracking may contribute to lesser grip strength. So best pack it in, anyway.
Basically, these sayings are all just metaphors that were never meant to be taken literally. And straight out of the "I saw you coming" school of coffee table books!
Finally, on a completely different note, many thanks to all of you who've purchased my novels, The De Clerambault Code, Soul Stealer and Retribution – which I wrote about here two weeks ago. And helping The De Clerambault Code, at the time of writing, reach the top 80 eBookthrillers on Amazon!  Keep those great comments coming to my website and donations to Cudeca!                                 
Nora Johnson's thrillers 'Retribution', 'Soul Stealer','The De Clerambault Code' (www.nora-johnson.com) available from Amazon in paperback/eBook (€0.89;£0.77) and iBookstore.Profits to Cudeca.