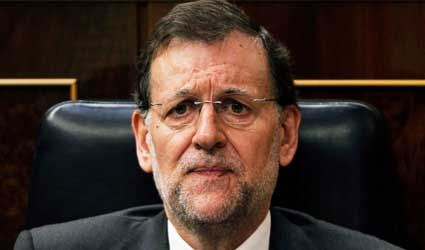 SPAIN'S president Mariano Rajoy would doubtless have preferred to pretend that the US does not monitor Spain's communications.
The Spanish right now are concerned about surviving on a day-to-day domestic basis.  Few are going to waste precious energy over working themselves into an outraged lather about 90 million eavesdropped communications.
They left that to the media, which embraced the NSA scandal as a change of flavour after the usual Strasbourg-Barcenas-Crisis fodder. 
The government reluctantly responded by summoning the US ambassador for an explanation while quavering about "erosion of trust."
The NSA subsequently claimed that Spain and France carried out the original eavesdropping before passing the information to the US.
Rajoy must be relieved he did not do a Dilma Rousseff  and cancel a Washington visit.  Although, unlike his Brazilian counterpart, he has yet to receive an invitation and is unlikely to do anything to spoil his chances of getting one.
Danger money
SIX coal miners died in Leon, overcome by methane as they worked 694 metres below ground. 
These were the last in the inevitably long line of deaths that occur wherever men have to hack out coal to earn a living.
The devastating blow to the families of the men who died is also another debilitating blow to Spain's struggling coal industry.  Miners went on strike and marched on Madrid last year to protest at reductions in subsidies and their future is still uncertain.
The Leon deaths are a further reminder that however much a miner is paid he earns it. Very often with his life. 
Right side of the law
RAJOY prudently stayed away from the Madrid protest against the Court of Human Rights ruling on the Parot Doctrine.
The Strasbourg ruling forced the government to backtrack on plans to make ETA convicts serve longer than their original sentences, to the dismay of victim support associations.
No minister was present at the demonstration organised by the most vociferous groups although most of the PP hierarchy attended.  Used to turning out for anti-government demos in the Zapatero days, Esperanza Aguirre, Madrid mayor Ana Botella and others expected a warm welcome.
To their discomfort and surprise they got the bird, were booed and barracked. 
One of the associations, the AVT, called for the government to "reconsider" the Strasbourg decision.
Rajoy knows there is nothing to reconsider because the government's compliance is what living under rule of law means.
Anything less reduces it to the same level as lawbreakers and terrorists.
Long-term terms
THERE has never been a "life means life" sentence in Spain, although this is about to change.
Some legal experts here have questioned whether this is wise or ethical as it eliminates the possibility of rehabilitation and prejudges its impossibility. 
Those used to the British system are happy enough to see it applied in some circumstances.  How many people would feel easy at seeing Ian Brady on the other side of the street?