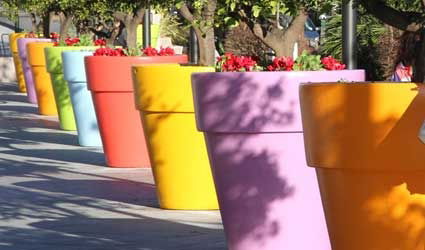 LOCAL POLICE in Benalmadena used social networks to identify the author of graffiti which appeared in the centre of Arroyo de la Miel in August.
The signature 'Flow' was left on the ornamental flower pots in Avenida de la Constitucion, phone boxes, shop windows, advertising banners and entrances to buildings.
The police recently discovered the author of the graffiti after he put a photo containing the same word on his Facebook profile. He was already the main suspect.
They used CCTV cameras, which were installed to control parking in the town, to identify the culprit who caused damage estimated at up to €2,700. The young man was seen in the early hours of the morning in the area which runs between his home and the train station. The night before, there had been an event for graffiti artists in Malaga city.
Once the youth knew he had been identified, he went to the police accompanied by his mother and admitted to the act of vandalism. He apologised and was chargeds with causing damage, for which he could be fined up to €750.