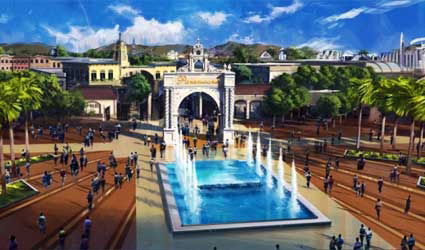 WORK on the Paramount Park in Alhama de Murcia is expected to start in January 2014.
It comes as contracts for the construction of the complex have been awarded, totalling €72 million. Premursa Theme Park SA, the company in charge of getting the Paramount Park up and running, announced that the winning bid, amounting to €52 million for the costs of construction of the first two phases of the park, was submitted by Ferrovial Agroman.
The Madrid based company beat 10 other bids and was involved in the construction of Terra Mitica in Benidorm.
Alicante based CHM Obras y Infraestucturas SA has been awarded the contract for the improvement of access roads and the infrastructure within the complex worth €20 million. They are expected to be the first to start work on the site in January with Premursa continuing to clear and prepare the land.
Premursa President Jesus Samper says up to 4,000 people could be working on the site, and they expect the Paramount theme park to open to the public in the last quarter of 2015.