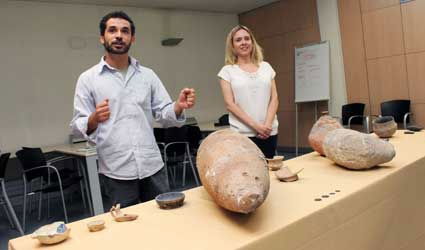 LUIS DUART, late parish priest of Benidorm, was also an archaeology aficionado.
He arrived in the town in 1950 and was responsible for the first excavations in El Tossal at the end of the Poniente beach.
On his death in 1983 he bequeathed his collection of 1,396 finds to the town.  This has now been catalogued by the archaeologist Victor Cañavete, who described it as "spectacular."
The collection extends from the Neolithic age to the 19th century although "dating some out-of-context finds" proved difficult, he admitted.
Amongst Don Luis's treasures are a hand axe and adze used around 10,000 years ago as well as Bronze Age pottery from between 3300 and 1200BC.  The Greek, Iberian, Roman, Moorish and Christian cultures are all present in the priest's collection. 
The 1,143 coins in the collection are mostly Roman but include 17th century copper cob coins minted in Peru and Venezuela. 
Cañavete was paid €1,200 for the month he spent cataloguing the collection, revealed Heritage councillor Eva Mayor.   It was a minimal outlay, given the value of the Duart collection, she said in answer to Opposition criticism.