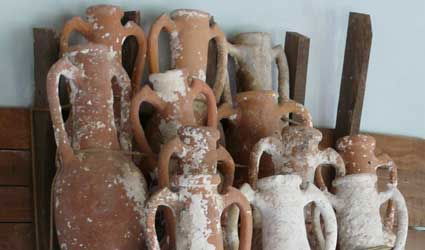 ARCHAEOLOGICAL artifacts inappropriately stored in the basement of the Almuñecar health centre have finally found a new home.
Council archaeologists have put them in a safe room at the Casa de la Cultura (cultural centre) after 19 months identifying and classifying them.
For  the time being they are still in boxes as the cultural centre doesn't have a hall to display them properly.
However, they are kept in a room with a constant temperature and are protected by council workers.
The artifacts were found inside plastic bags in boxes intended to carry custard apples, next to debris and other waste material.
Among them, the council archaeologists found Phoenician amphorae and Roman figures made with stucco, a material used to decorate vaults.
The archaeologists claim these remains have an inestimable value
They also say they can serve as the basis to research the commercial relations between towns in ancient times as they tell the history of Almuñecar from its beginnings.