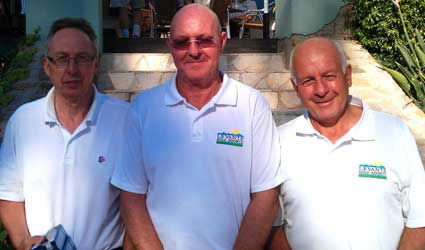 THE Levante Golf Society played a competition at La Sella.
La Sella member Peter Jenkins came first in Division 1with 35 points with Clive Wright (34) in second and Mike Harding (34) in third.
In Division 2 Harris McCrea won with 34 points, beating runner up Alan Overton's (30) with Frank Carroll (28) placing third.
There are three competitions remaining in the Levante Golf Society's Player of the Year competition, the first of which is the first round of the Autumn Trophy at La Sella on November 15.Currently, Alan Overton (65) leads the table, followed by Peter Jenkins (60), Mike Cuerden (59) and Dave Geeson (58).
The competition is also close in Levante's Ford Leagues table. Currently Roy Molyneux (146) leads followed by Mike Cuerden(138), Dave Geeson (138) and Angela Hov (138). At the end of April the top two players with the best aggregate total from four competitions will qualify for the finals.