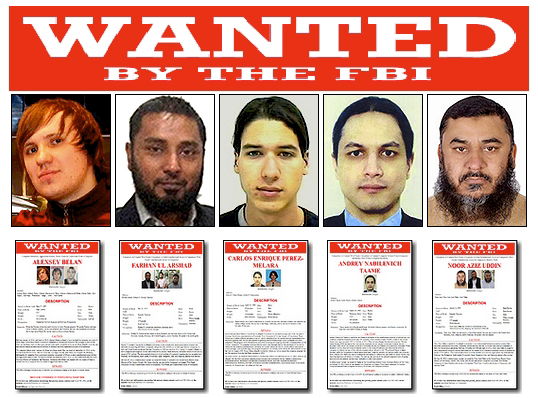 Five individuals have been added to the FBI's Cyber Most Wanted list for their roles in domestic and international hacking and fraud crimes collectively involving hundreds of thousands of victims and tens of millions of dollars in losses.
In announcing the addition of the new subjects—along with rewards of up to $100,000 for information leading to their arrests—Executive Assistant Director of our Criminal, Cyber, Response, and Services Branch Richard McFeely said, "Throughout its history, the FBI has depended on the public's help and support to bring criminals to justice. That was true in the gangster era, and it's just as true in the cyber era. We need the public's help to catch these individuals who have made it their mission to spy on and steal from our nation and our citizens."
The new fugitives on our Cyber's Most Wanted list are:
Rewards are being offered for each of the five fugitives, all of whom are believed to be living outside the U.S. See the accompanying "Wanted By the FBI" posters for more information.

The FBI's Most Wanted program is best known for its Ten Most Wanted Fugitives list. The Top Ten list was established more than six decades ago and has become a symbol of the Bureau's crime-fighting ability around the world. But the Bureau highlights other wanted fugitives as well—terrorists, white-collar criminals, and increasingly, those who commit cyber crimes.
The FBI leads the national effort to investigate high-tech crimes, including cyber-based terrorism, espionage, computer intrusions, and major cyber fraud. The expansion of the Cyber's Most Wanted list is a reflection of the FBI's increased efforts in this area, McFeely said. "The cyber fugitives we seek have caused significant losses to individuals and to our economy," he explained. "And cyber crime continues to pose a significant threat to our national security."
We need your help. If you have information about any of the five individuals mentioned above, or the other fugitives on our Cyber's Most Wanted list, please submit a tip on our website or contact your local FBI office or the nearest U.S. Embassy or Consulate.
© http://www.fbi.gov/