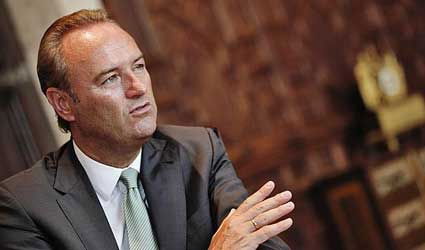 The president of the Valencian Generalitat, Albert Fabra, spoke to the media this morning explaining his reasons for closing down RTVV (Radiotelevision Valenciana).
"We are going to maintain the basic services. No hospital or school will be closed down. The money we have is for the basic services," said Fabra. He claims they are not in a position to spend €40 million a year, as hundreds of workers would have to be readmitted due due to the past collective dismissal program being declared null. 
"The process now is being handled by legal services, but it will  be fast", explained the Valencian president. "We are not going to negotiate, the closure decision is final, we can´t afford to run a TV channel".
Meanwhile, station workers have been protesting on the streets and making appearances during the newscasts. "Our will is to work and to continue with the broadcasts as usual," were the lines of the news presenter at the opening of last night´s edition. They see it as an "act of cowardice" to close the station instead of finding a different solution to the problem.