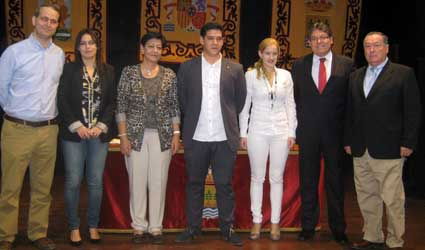 ALBOX TOWN HALL has awarded the winner of TV's Masterchef, Juan Manuel Sanchez the Gold Shield of Albox.
The ceremony took place on Saturday during the town's Feria celebrations.
Mayor Rogelio Mena said that "Juan Manuel is worthy of the distinction for representing the town's entrepreneurship and humility. Albox has become the capital of Spain in the cookery world and Juan has represented the character of our neighbours with his humility, simplicity, friendliness and comradeship."
The mayor added: "He has become one of the main ambassadors for the town, a real star who will hopefully soon have a Michelin star'.
The government team said: "The fact that Juan Manuel Sanchez has always taken  the name of Albox forward, together with his hard work entitles him,despite his youth, the recognition of this town with an award such as the Gold Shield. Juan thanked the people of the town and his family for their continued support and said although he could not invite everyone to his table,every pinch of salt and spoonful of sugar will always be a part of Albox.