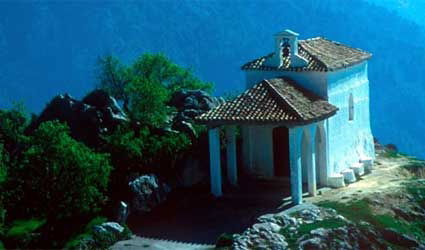 THE rural Development Group of the Sierra Nevada of Almeria, Alpujarra, arranged a special day to publicise the walking route Mozarabe de Santiago.
The route goes from Almeria City all the way to Santiago de Compostela in the north of Spain. The day was aimed at mayors and councillors from 15 municipalities through which the path passes in the province and also members of the rural develoment group.
Early yesterday morning, (Wednesday) the participants gathered in the Plaza Vieja, in Almeria City.
In the Tourist Office the pilgrim information point gave the group  an overview of the Camino de Santiago in Almeria. From there they moved to Cathedral Square, where the starting point of the route in Almeria has been established. The participants travelled on foot through the capital and after walking through the city,the rest of the journey was made by car. The group made stops in the remaining 14 towns of the province through which the route passes. After lunch in Alboloduy the route concluded in Venta Ratonera, Fiñana, The Mozarabe route was used by Christians who lived during the reign of the Arabs.