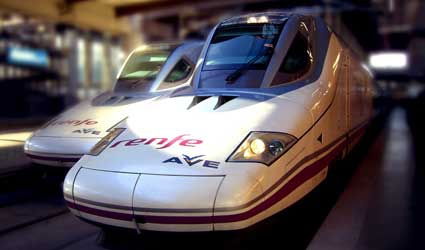 THE Alicante-Madrid AVE high speed train has achieved 85 per cent punctuality.
This is better time-keeping than any of Spain's other AVE connections, rail operator Renfe announced recently.
With the trains reaching speeds of 306 kilometres an hour on the Albacete to Madrid section of track, some reached their destination with time to spare.
At present, AVEs between Alicante and Albacete cannot go above 200 kilometres an hour.  If all goes according to schedule and safety measures and signalling tests produce the right results, trains on this section should be running at 300 kilometres an hour after January. 
This will considerably reduce the present journey times and on the Friday and Sunday non-stopping trains this will be reduced to two hours and five minutes.
More than 600,000 people have used the Alicante AVE since the service began last June, an increase of 41.2 per cent on last year's figures.
Renfe and the provincial tourist board are jointly promoting the Costa Blanca in Madrid, emphasising its cultural, sporting, leisure and gastronomic offer.