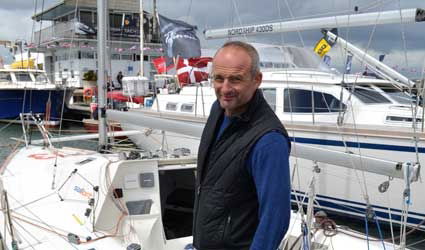 Richard Mayon-White, was in Marina Bay before setting out on an unusual solo transatlantic crossing.
Last Saturday the 46-year-old was due to unfurl the sails on Haskapa, a 6.5 metre mini transatlantic class yacht, and embark on his ocean crossing.
He'll navigate through the Strait, sail south to follow the western coastline of Morocco and the Sahara, and then meet the Tropic of Cancer at 23 degrees north.  This famous line of latitude will then dictate his course for 4,000 miles, before reaching Fort Lauderdale around a month later.
Richard explains, "This is a challenge for charity, Tropic4Cancer, and challenges by definition are not supposed to be easy.  My biggest fear is large marine life.  Previously I have nearly been on the wrong end of an amorous Sei Whale and I really don't like sharks either."
Richard chose Gibraltar's Marina Bay as a starting point as he wanted to set off from mainland.  The Haskapa was delivered by lorry from Poole to southern Spain.
"I've also never been to Gibraltar before", continues Richard, "and I love trying out new places.  It's a crazy location with the hustle and bustle of a major city and tourist hotspot whilst retaining the feeling of a proper community.  People are really friendly and welcoming. "
Tropic4Cancer aims to raise £40,000 to be split equally between two great causes – Sobell House Hospice in Oxford (www.sobellhospicecharity.org.uk) and Sail 4 Cancer (www.sail4cancer.org).  Richard's mother spent her last few weeks in the care of Sobell House.  Richard has always felt the need to give something back to the hospice. 
Sail 4 Cancer gives respite to cancer sufferers, their families and carers through days out on the water and sailing holidays.  The charity was set up in 2001 by a group of keen sailors who had all lost a close friend or relative to cancer. 
To offer your support to Richard visit www.tropic4cancer.com and for donations www.sail4cancer.org/Tropic4Cancer.