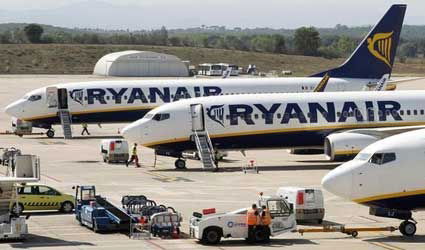 DUBLIN (Reuters) – Ryanair's annual profit is set to fall for the first time in five years as intense competition in Europe pushes average fares down by around 10 percent over the winter months, Europe's largest airline by passenger numbers said on Monday.
Two months after issuing its first profit warning in a decade, the Irish budget carrier cut its profit forecast further for its current financial year ending in March to around 510 million euros (431.6 million pounds) from 570 million euros.
Chief Financial Officer Howard Millar said passenger numbers were stable and on-board spending was growing, but that people were only booking discount fares, a sign Europe may not be recovering as quickly as many people hoped.
"At the macro level in Europe signals have gone green, but on the micro level things don't seem to be as strong as people think," he told Reuters.
The weak numbers coincide with the airline's efforts to attract premium passengers from low-cost rivals like easyJet and Norwegian.
In the latest of a series of radical changes to the airline's no-frills model, Ryanair said it would allocate all seats on its planes, ending the often frenzied rush by passengers to secure the best seats.
But management said the recently announced changes, which included a halving of some baggage charges, would not have a significant impact on the current financial year.
"These things aren't instant" said Millar, who forecast it could take 12-18 months for the changes to make an impact.
The airline met analysts' forecasts with a profit of 602 million euros for six months to September, up 1 percent on the year, as a fall of 2 percent in average fares was compensated by a 22 percent rise in extra charges.
Analysts said there could be some upside in the 2014-2015 financial year, which includes two Easter periods, and should see the impact of recent cuts to charges in key airports and lower fuel prices. But Millar said it was too early to predict how they would impact profitability.
Ryanair in September had warned that its profit would be at the bottom of a previously announced 570 million-600 million euro range. On Monday it said that would fall to between 500 million and 520 million, below the 569 million euro profit last year and the first fall in annual profits since 2009.
Several competitors, including Norwegian and Aer Lingus have also warned of strong competition pushing down prices.
While Britain's easyJet last week nudged up its pretax profit for the 12 months to September 30, it has not yet released figures for the October-March period where Ryanair is seeing weakness.
Ryanair shares closed on Friday at 6.10 euros, down 10 percent from their level before the profit warning on September 4, but up 29 percent in the year.
The ThomsonReuters EU Airlines Index is up 33 percent in the year to date.