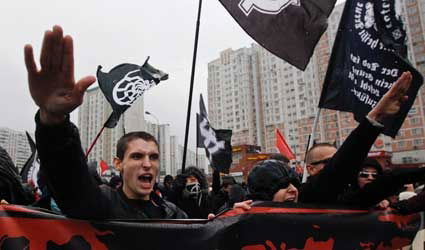 MOSCOW (Reuters) – Thousands of Russian nationalists rallied across the country on National Unity Day on Monday, in a sign of the growing strength of far-right political forces galvanised by an anti-immigrant agenda.
Hard-line nationalists have adopted the holiday, which commemorates the liberation of Moscow from Polish invaders in 1612, as an occasion to hold annual "Russian Marches".
This year's rallies were larger and more numerous than in previous years, in a headache for Russian authorities who worry that rising ethnic tensions pose a threat to public order.
At the largest rally, around 8,000 people assembled in an working-class neighbourhood on the outskirts of Moscow, police said. Organisers' requests to hold the rally closer to the city centre have repeatedly been denied.
"Moscow has only just woken up, and Russians have only just started to recognise their identity," said Alexander Belov, a nationalist leader and an organiser of the march. "With every day Russian nationalists are gaining more and more support across the country."
Police said they detained around 30 marchers for wearing masks or forbidden Nazi symbols, and for other minor public order offences. No serious disturbances were reported.
Smaller demonstrations, attracting hundreds or dozens of participants, were held in towns and cities across Russia.
Although nationalist organisations attract the active support of only a small minority of Russians, they tap into widespread public concerns over immigration and disenchantment among Russian youths.
Many ordinary Russians are deeply hostile to immigrants from the largely Muslim regions of Central Asia and the Caucasus, blaming them for problems such as crime and unemployment.
A recent survey by the Levada Centre polling agency, taken on the eve of Moscow's mayoral election in September, showed that immigration topped voters' concerns. More than half of respondents said it worried them more than any other problem.