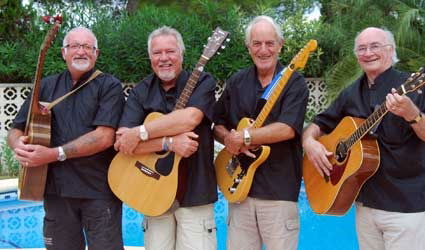 LOS JUBILADOS are a group of retired mates who met up at Café Molino in Oliva at the regular Friday night jamming sessions, a few years ago.
As learner guitarists, and after much practice, they formed the group for the Javea Computer Club's Christmas Party last year. 
They are Tony Spike, Ian McKenzie, Howard Parker and Derek Bush, joined by Bryan Wall on the drum box, during his holiday visits to Spain.
They play for a variety of charity functions to raise money for Javea Cancer Care, chosen because each of them have themselves, or family members and close friends, suffered from cancer in various forms. 
They would like to thank everyone who has helped along the way, particularly Denis and Sue, for the introduction to Rebecca and Martin at bar Poll (ca' la queka) Rebecca's House, in Els Poblets, where they play every Wednesday night to raise money by donations only, and all their customers, for their generous donations to date (€1,001.35 since early July). They would also like to thank Bay Radio.
Their latest brainwave is the Calendar Girls collection, currently being prepared for print by SR Print, Pedreguer, to boost profits for 2014, inspired by Peter's outstanding success with his Biker Babes Calendar for Emaus children's charity. Thank you to the calendar girls themselves for their fantastic effort and courage.        
The calendar is available from Café Molino, Plaza Ganguis 7, Oliva, Ca la Queka, Carrer St. Josep 8, Els Poblets, Quicksave Supermarket, Avenida Murtar 03/3 bajo, Pedreguer, and also Cancer Care Javea, Avenida del Pla 135, priced at €6 each plus post and packing or contact Los Jubilados on their email address [email protected]