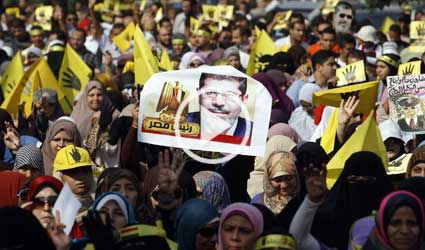 CAIRO (Reuters) – Ousted Egyptian leader Mohamed Mursi struck a defiant tone on the first day of his trial on Monday, chanting 'Down with military rule', and calling himself the country's only 'legitimate' president.
Mursi, an Islamist who was toppled by the army in July after mass protests against him, appeared angry and interrupted the session repeatedly, prompting a judge to adjourn the case.
Opponents of Egypt's army-backed government say the trial is part of a campaign to crush Mursi's Muslim Brotherhood movement and revive a police state.
It is the second time in just over two years that an overthrown president has been in court in Egypt, a nation said by government critics to have reverted to authoritarian rule.
The trial is not being aired on state television and journalists were barred from bringing their telephones into the courtroom set up in a Cairo police academy.
Mursi, dressed in a blue suit and held in a cage, made a Brotherhood hand gesture to express his disgust at a crackdown on a protest camp that was razed by security forces in August.
"This trial is illegitimate," said Mursi, prompting the judge to adjourn the session. Proceedings are expected to resume later on Monday.
The now-banned Muslim Brotherhood has said it will not abandon the street protests it has staged to pressure the army to reinstate him.
But a heavy security presence across the country served as a reminder of a crackdown in which hundreds of Mursi supporters were killed and thousands more rounded up.