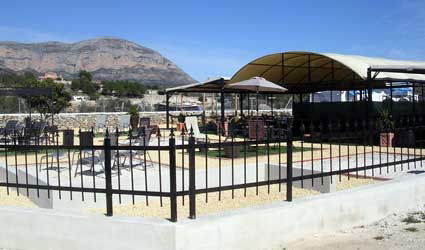 MICK and Debbie at the Gata De Gorgos outlet of Iron Art Factory Outlets are hosting a Christmas Fayre on Sunday November 10 to help raise funds for the MABS cancer support group.
MABS offer support and help for patients and their families over the phone and by home visits. Run solely by volunteers, MABS offer a variety of services. They provide a carer/buddy service enabling you to have some respite if you are the carer for a cancer patient, can assist in collecting prescriptions, shopping or just being a listening ear. They have a network of translators who can assist with appointments and can provide transportation to hospitals for appointments.
The event will be open 11am – 4pm and offers free entrance and plenty of parking.
There will be a wide range of local traders present selling their wares such as Christmas cakes, chutneys and jams, Christmas cards and wrapping paper, gifts, handbags and scarves, toiletries, handmade chocolate goods, cheeses, wines, and much more enabling you to do all your Christmas shopping in one place and in plenty of time.
You will also have the opportunity to visit the newly refurbished furniture showroom and peruse one of the largest collections of garden furniture and indoor suites on the costas and not forgetting the gift shop which will have many items on offer on the day with some items being reduced by as much as 50%.
Refreshments will be available in Ye Old Tearooms where you can sit and have a natter over a nice cuppa or just sit and enjoy the ambience of the day.
As a special touch to mark the day a 'Memory Tree' will be erected whereby customers can purchase a card in memory of loved ones and hang the card from the tree keeping half for themselves as a treasured memory. All proceeds will go to the MABS charity.
MABS will also have a bric-a-brac stall and will be hosting some party games.
All in all this will be a fun day out for all the family which will help raise funds and awareness of this very worthy cause.
Anyone interested in having a stall on the day or further information regarding the event should call Debby on 965 757 775.