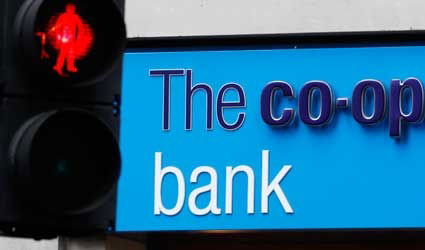 LONDON (Reuters) – The Co-operative Group will hand control of its banking arm to investors including U.S. hedge funds to plug a 1.5 billion pound capital shortfall, it said on Monday.
Co-op Group said it would remain the biggest shareholder in the Co-operative Bank, retaining a stake of 30 percent in return for contributing 462 million pounds towards the rescue.
The move risks alienating the bank's 4.7 million customers, many of whom were drawn to the lender because of its perceived ethical focus, and Co-op sought to reassure them through a commitment for the group's values and ethics to be legally embedded in the bank's constitution.
"What's really important to our customers and our members is that the bank continues and that the values and ethics of the bank are right at the heart of that and for the first time ever we've written that into the constitution of the bank," Co-op Group's Chief Executive Euan Sutherland told BBC radio.
Co-op has reached agreement with a group of bondholders which own nearly half of its lower Tier 2 bonds. The group, which includes U.S. hedge funds Aurelius Capital and Silver Point Capital, built up large enough positions on tranches of Co-op Bank's debt to block an original proposal which would have seen Co-op retain a majority stake in the bank.
Sutherland told Sky News that about 15 percent of the bank's branches will need to be closed resulting in significant job losses.
Co-op said it would seek to list the bank on the London Stock Exchange in 2014.