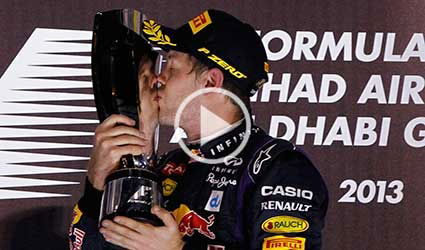 ABU DHABI (Reuters) – Sebastian Vettel won the floodlit Abu Dhabi Grand Prix by a massive margin on Sunday to chalk up his seventh successive victory and equal the longest winning streak in Formula One's modern era.
Red Bull's four times world champion was in a league of his own, 40 seconds clear at his second pitstop and then taking the chequered flag half a minute ahead of second-placed Australian team mate Mark Webber.
"The car was absolutely brilliant," he said after the race which started in daylight and ended in darkness. "Not much more to say. I was flying at some stages. At least it felt like it. Massive gaps…"
The 26-year-old German has now won 11 races this season, 37 in his career, and his seventh success in a row equalled the single-season tally racked up by fellow German Michael Schumacher in 2004.
The all-time record of nine was set by Italian Alberto Ascari, although that was over two seasons in 1952-53, and nobody would bet against Vettel matching that feat before the year is out with races in Austin, Texas, and Brazil to come.
"I remember when I was a small kid watching Formula One and Michael was with Ferrari and dominating…if you look back, you feel like he won every second race.
"To equal some of the stuff that they managed to achieve is very, very special."
To celebrate, Vettel pulled over on his slowing down lap and performed more of the smoking 'donuts' that landed him in trouble last weekend in India where he captured his fourth successive championship.
"Just bring the car home into the garage," race engineer Guillaume 'Rocky' Rocquelin told him, probably knowing already the futility of his words.
"Yeah, yeah, yeah. I know what I'm doing," replied Vettel, echoing the famous words of Kimi Raikkonen on his way to victory in Abu Dhabi last year in response to unwanted advice from his Lotus team.
"You can pay the fine on that one," said team principal Christian Horner.
Red Bull were fined 25,000 euros ($34,500) for failing to instruct Vettel to return directly and park his car in the pit lane in India.
Credit: FreeZePCGaming (YouTube)