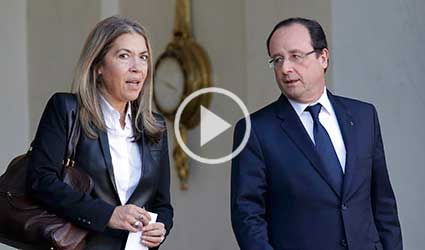 PARIS/BAMAKO (Reuters) – France said on Sunday two French journalists found dead in the northern Mali region of Kidal had been "coldly assassinated" by militants and vowed to step up security measures in the area.
Radio journalists Claude Verlon and Ghislaine Dupont were abducted after interviewing a member of the MNLA Tuareg separatist group in northern Mali.
Their bodies were found on Saturday by a French patrol 12 km (8 miles) outside Kidal, the birthplace of a Tuareg uprising last year that plunged Mali into chaos, leading to a coup in the capital Bamako and the occupation of the northern half of the country by militants linked to al Qaeda.
Adama Kamissoko, the governor of Kidal region, said French and Malian security officials were jointly investigating the attack, but French Foreign Minister Laurent Fabius put the blame firmly on militants operating in the region.
"The assassins are those that we are fighting, the terrorist groups that refuse democracy and elections," Fabius said, calling the killings "heinous and revolting".
Fabius said one of the journalists had been shot twice, and the other three times. He said French forces had tried to find the hostage takers, but to no avail.
Paris launched air strikes and sent thousands of soldiers into Mali at the start of the year to drive back al Qaeda-linked rebels it said could turn the West African country into a base for international attacks.
Islamists scattered during the French assault and a presidential election was held in July. But the journalists' deaths follow a number of attacks elsewhere in northern Mali, underscoring the fragile gains in the vast desert zone.
Last month Malian and international forces launched a wide-scale operation to keep pressure on Islamist groups.
Although Malian, U.N. and French troops are stationed in Kidal, none are heavily deployed. The Malian army's contingent is generally symbolic and soldiers are confined to their base.
There are some 200 U.N. peacekeepers (MINUSMA)who are officially in control of security and France also has about 200 troops, though their operations in the region have focussed on the Adrar des Ifoghas mountains to the north, which served for years as a hideout for militants.